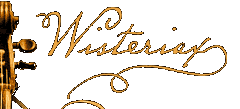 MP3s

I'm currently working on my first solo album. You can hear some of the tracks from it on my IUMA page.

Voyage of the Lovecraft has some really harsh, percussive sounds in it that I got by running the cello through a SansAmp on some kind of overdrive setting, and striking the wood of the bow on the strings.

Moonswirl uses a nifty panning effect, and a bouncing-bow technique run through a delay provides some of the rhythm.

Alive in the Ice brings the cello down low with a pitch shifter. Shimmering electro-glitchery provides contrast.

But I like to let people decide for themselves what they think of things! So...

>> Go listen!






DISCOGRAPHY

Not sure if a lot of this stuff is still available, but here are some records I've been on, and a few that have not yet come out:

Incus: Burning Thread - upcoming release on Dragonfly Disc
Kittenwhip: upcoming lo-fi experimental compilation
Steven Cerio's: Lettuce Little - upcoming experimental release
Boyarm.com's: Il Programma Di Religionne - upcoming experimental release
Twink: Twink {Shy Violet, Indian Summer}
Ad Frank: Mr. Fancypants {Barking Up the Wrong Girl}
Good Guppy Records: Waterlogged Vol. 1 compilation with Vitriola {Purge}
Good Guppy Records: Waterlogged Vol. 2 compilation with Vitriola {Siren Song}
Good Guppy Records: 4 Headed Beast compilation with Vitriola {4 tracks}
Lick Our Cracks: Tribute to Abalienation with Vitriola
The Silence Solied: Cassette Demo and release with Evil Twin
WHRW Moe's Second Helping compilation with Evil Twin
WHRW Moe's Meat Sandwich compilation with Vest