a very wisteriax halloween...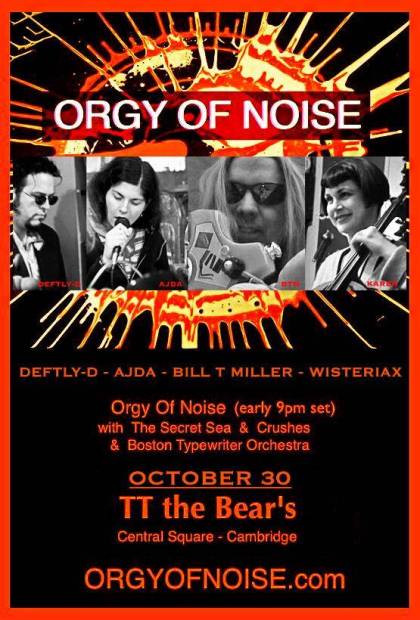 Hi folks,
If you are still looking for some Halloween adventures, I have good news!
?
This Thursday night at 9PM?I will join Orgy of Noise for an especially spooky pre-Halloween performance at?The Bear's in Cambridge. Also in the lineUP: Bill T. Miller on toys and more toys (he's the oon ringmaster, of course!) Deftly-D on scrap metal and indistrial banjo, and Ajda the Turkish Queen will sweeten the deal with her hauntingly lovely vocals. You'll want to stay for the whole show to see the Boston Typewriter Orchestra and The Secret Sea & Crushes. See the attached flyer for details and awesome head shots!?
Then on Friday October, 31 at 10:00 PM I'll be sitting in with Thomas N?la
et son Orchestre for a performance of the new album "Rose Tinted
Monocle," with a prelude performance by David E. Williams on solo grand
piano. There is no charge to attend this premiere and complimentary
champagne will be served, but formal attire or a creative costume is
required for admittance. There will be no exceptions.
The Lily Pad | 1353 Cambridge St., Inman Square, Cambridge,?Massachusetts
?
Have a Happy Halloween! Hope to see you at one of these haunts...
~Karen
a.k.a wisteriax
?
p.s. if you don't want these announcements anymore, just reply "boo" and I'll remove you from my list forevermore
Posted by wisteriax at 7:57 PM EST |
Post Comment
|
Permalink